Toys R Us: Bright Starts Baby Playplace $68.97 (Orig $114.99)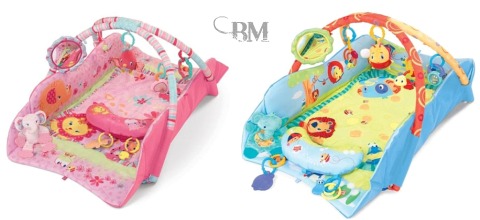 Toys R Us has an excellent deal on a baby playplace from Bright Starts. Regularly $114.99 you get 40% off and only pay $68.97! Available in pink or what they call neutral (blue/yellow) to suit your tastes.
Here are some product reviews off of Toys R Us:
My 3 month old daughter loves this play mat as she screams with excitement while playing in it. There are manys different toys for her to grab and you are able to attach them together so the toys can drop at different lengths depending on the reach of your baby. She loves the music which has the option to play continuously or when she touchs the musical toy.
The main reason I bought this item was because we have two dogs and so I really liked the fact that the sides go up. Even if we never leave our son unattended it just feels more secure. We've had it since he was 2 months and he's really been enjoying it since he turned 3 months. He's 5 months now and still loves it.
Free shipping on orders of $100+