Toys R Us: Barbie Malibu Mall Was $100 | Now $60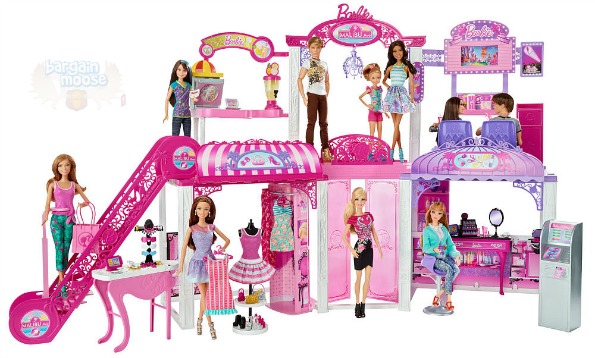 Toys R Us Canada is offering 40% off the Barbie - Malibu Mall. Originally $99.99, the mall is on sale for $59.97 this weekend.
I could not find this playset in stock elsewhere in Canada. Therefore, I turned to the USA for even a brief glimpse at what the Malibu Mall retails for currently. I found the same Barbie play set at ToysRUs.com for $64.98 US. Given the currency conversion rate right now, that would equal $80.72 in Canadian dollars. From my research, this is a Toys R Us exclusive, so that is why you cannot find it elsewhere. However, you can find 'additions' to the set at other retails. The single room additions tend to retail for $40 each, but I have seen some on sale for $19.
This set includes four businesses: a beauty shop, a clothing boutique, a movie theatre and a food court. The businesses are on two levels with the food court and movie theatre above. Move between the two floors on the escalator that activates with a simple push of a button. The set does not come with any dolls, but you can simple use the Barbies you already have to play with this set.
The movie theatre has a fun little twist where you can insert your own cell phone into the screen so your Barbies can watch a real movie! You can then watch it with them too. There is also a cool little ATM machine where you can 'withdraw money'. I could not find out much information about what extras are included in the set, but according to secondary sellers, there are over 50 pieces so there should be plenty of bits and bobs for your child to enjoy. The set has many great reviews including this one:
definitely good for girls who like dress up, shopping, malls, especially liked could put new ipod in as movie theater screen and play movies or videos! very cool!
This doll playset does not qualify for free shipping, but it does receive up to $10 shipping credit. When I estimated shipping, it only came to $9.38, thus the Barbie doll playset should ship for free to most people. There is also the option of doing an in-store pickup should the shipping charges be too high. You can pick-up in store for free.
(Expiry: unknown)