Half Price Event - Even Building Blocks @ Toys R Us Canada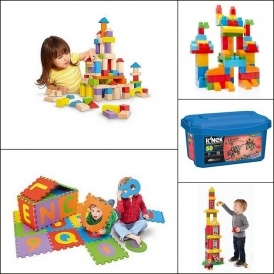 Creative play with blocks is an important part of sparking a young child's imagination. Electronic toys just can't compare to the type of play that engages the mind of a young child the way playing with building blocks do. Right now, ToysRus.ca is having a 50% off sale on a selection of toys, and the block sets really caught my attention. You can stock up on more than one set at this price, to create even bigger creations with your child. As usual, this offer is only valid this weekend.
Here is an Imaginarium wooden block set of 150 pieces that is bright and colorful (red, blue, yellow, purple, lime green, and natural wood toned blocks) and is considered the standard of all building sets. It is on sale for $22, regular price is $44. These blocks are great for hand eye coordination as you watch your child proudly design bigger and taller creations.
MegaBlocks First Builders Deluxe Building Bag for $17.50 down from $35 will provide hours of play for young toddlers and pre-schoolers and is an excellent activity for little hand muscles to get stronger and more adept as they take the pieces on and off. There are 145 blocks in the bag, and are great for ages 1 - 5. While you are at it, you might want to look at this really cute Mega Bloks - First Builders Friendly Farm set on sale for $20, down from $40. The included chicken and horse are adorable!
Another type of building that is so much fun (and I say this from experience with my own kids) is this Imaginarium Alphabets and Number Foam Play Mat, selling for $22.50 down from $45. This particular set has a purchase limit of two when you place an online order. There are 36 pieces in this set, and it will involve countless fun antics as your children learn how to creatively make forts for your cat or dog, and more!
For the older set, ages 7 - 10 or so, the K'nex 50 Model Big Value Building Set for $12.50, reduced from $25. These are the kind of toy that your kids will get hours of use out of as your kids connect these interesting pieces together.
Shipping on all of these products will vary, depending on what you are purchasing. I noticed the Imaginarium Alphabets and Number Foam Playmat set show a $10 off shipping, and other items show free shipping with over $49. If you don't spend over $49 to get free shipping, the price for shipping varies, but seems to be fairly reasonable, usually starting at around $9.95.
(Expiry date: April 24, 2016)