The Orange Box For Only $9.99 This Weekend!
I'm a bit late in posting this considering the deal went up on Friday, but I've been socializing a little bit too much – sorry for the delay!
Game-loving Bargainmoosers might be interested in this deal from Steam.com. They do a special deal every weekend, in which they heavily discount a particular game. This weekend, it's the Valve software favorite, The Orange Box!! You can buy it for only $9.99US! This is an excellent price, IMO!!
Contains:
Half Life 2
Half Life 2: Episode 1
Half Life 2: Episode 2
Lost Coast
Portal
Team Fortress 2
Personally, the Half Life series is one of my favorite of all time! The original Half Life PC game was one of the first computer games I ever played. I was forcibly introduced to it by an ex-boyfriend, and it kind of got under my skin. I was Gordon Freeman for hours upon hours. That crowbar was my best friend. Head crabs were in my thoughts and in my dreams. Zombies were hiding round every corner.
As graphics got better, computers got faster, and my disposable income increased, I went on to buy Half Life 2, then Episode 1, and then The Orange Box. Half Life 2 was simply excellent as well, following on from the great gameplay of the first in the series.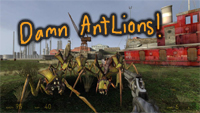 I remember I bought a new computer just because I knew Half Life 2 was coming out. Well, I kind of wanted a new computer anyway, and Half Life 2 was just a good excuse to treat myself!! I spent quite a lot of moolah on that graphics card! The first time I loaded up Half Life 2 and saw the rendering of the water in the boating levels, I was just gobsmacked. Again, I was lost to the world for at least a solid week while I played the game through from start to finish.
Episode 1 and 2 followed on with the excellent levels and gameplay. Superb. Check out this recent video I found on Youtube, Escape From City 17. It's an excellent little video that some guys have put together on a minimal budget to mimic the game.
I don't have much to say about Team Fortress 2, in that I've never really played it. I do know that there is a massive online community which simply adores that game.
Regarding Portal – this little game is just superb. The humor just hits the spot for me. I found it hilarious, especially GLaDOS' encouraging comments. Plus, the theme tune is just the catchiest little number. Did you know that you can even buy your very own companion cube from the Valve store?
Remember everyone, The Cake Is A Lie.