Swiss Chalet Toys "R" Us Fun Card With Kids Meal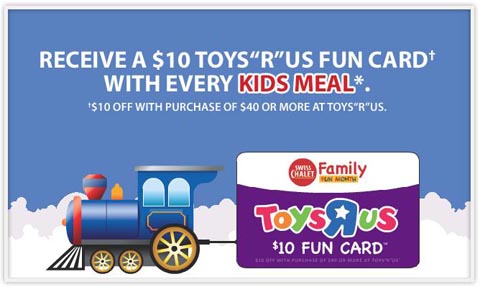 When you order a Kids Meal at Swiss Chalet, you will recive a $10 Toys "R" Us Fun card to use toward your $40 or more Purchase at Toys "R" Us.
For this deal, you will get a $10 fun card for every Kids Meal you order, and you can use multiple cards to use toward your Toys "R" Us purchase. This offer is valid for a while, until April 11, 2010, so you can collect your fun cards before splurging . There are a few products that the fun card cannot be used for though such as video game hardware, Apple products, iTunes cards, gift cards, and Buyers Protection plan.