Steam (US): Weekend Deals 50 - 66% Off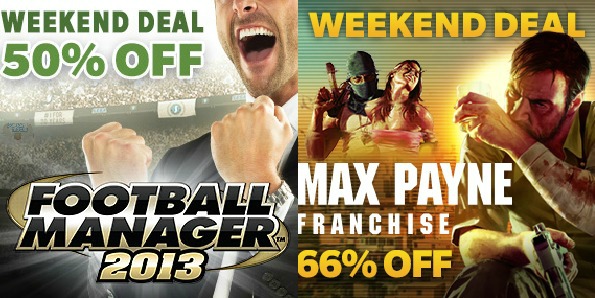 Steam Powered has two weekend deals for PC computer games: (1) get 50% off Football Manager 2013 - Originally $39.99, it is on sale for $19.99. (2) Get 66% off the Max Payne 3 originally $39.99, it is on sale for $13.57.
I'm not very familiar with either of these games - in fact I have only heard of Max Payne and I am completely unfamiliar with Football Manager. However, Max Payne has received a 87/100 metascore which is pretty good. According to reviewer Vandal Online:
Fans of Max Payne in PC can be happy. Rockstar has done its homework and this is not just a port. All the virtues of the console version are here, but its graphics have been greatly improved and with a powerful machines we can enjoy an spectacle. If you like action games and your PC is up-to-date, this is a great acquisition.
Football Manager also has a metascore of 86/100 which lands it in the 'very solid game' camp. If you love football you might wast to give this a try, according to reviewer Vandal Online:
With the biggest database of football players and teams, Football Manager 2013 brings back the best of the previous episode to improve and expand it. The only thing we could complain about is the 3D graphics, which we consider should have been better, but still it leaves us with a feeling of almost perfection.
All prices in USD.
(Expiry: 11th March 2013)