Steam Powered: Save 75% on Weekend Gaming Deals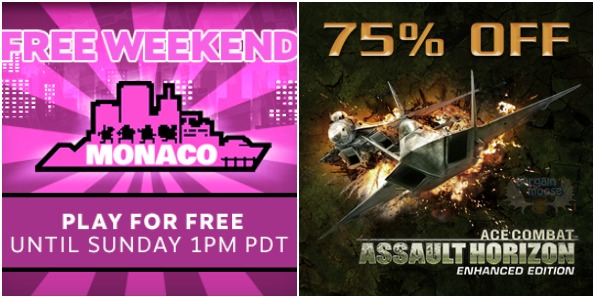 Steam has two great weekend gaming deals on right now with 75% off Monaco: What's Yours Is Mine and Ace Combat: Assault Horizon (Advanced Addition).
First of all, Monaco. This is a double deal because Steam is offering Monaco: What's Yours Is Mine as a free play this weekend until Sunday at 1PM PST. If you already have Steam installed on your computer then all you need to do is just click here to install the game. This link won't work if you don't have Steam installed. If you like the game then you can buy it for 75% off the regular price. Originally $14.99, it is now on sale for $3.74 USD until Monday.
While there is no free play weekend for Ace Combat: Assault Horizon, you can see from the previews that this is going to be a pretty awesome game if you like airplanes and shooting stuff. Just watch the videos on Steam or look at the pictures they include and you can see how wicked this game is going to be. Originally $29.99, it is now on sale for $7.49 USD.
Steam is one of my favourite places to go for new games. With their great sale prices I can always try something new without worrying whether it is worth the $4 I just paid for it. For the several hours entertainment a new game is sure to provide, it is most certainly worth it.
(Expiry: 7th March 2014 @ 10AM PST)