Star Wars 16" Legendary Yoda Interactive Robotic Toy $125, down from $200 @ Best Buy Canada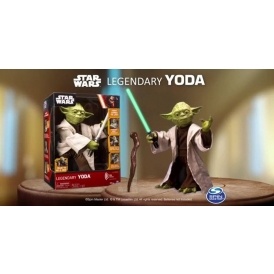 Ready to train, are you? An interactive toy like this Interactive Robotic Yoda is probably one of the coolest toys your child or other Star Wars fan will interact with, then proudly display. Yoda has voice recognition and of course a green saber that lights up! As expected, Yoda speaks in his typical Yoda-speak, in an interactive manner. Yoda is on sale for $124.99, down from $200. I don't want to give away any surprises but click on the link below to see everything that this Legendary Yoda can do! (Read the 'overview' section once you click on the link below!) Supplies are limited, so you will want to act quickly on this one.
The sale is said to end May 5th, but I highly doubt stock on this popular character toy will survive as long as this price. This adorable robot has seven different motors which make him capable of 360 degrees of movement. It won't take long for you to forget that this is a toy. A toy for the young and the old that is.
Free on yoda, shipping is. Herh herh herh.

(Deal Expiry: May 5, 2016)