Smiley Storage Cube Set $32 Shipped @ Costco.ca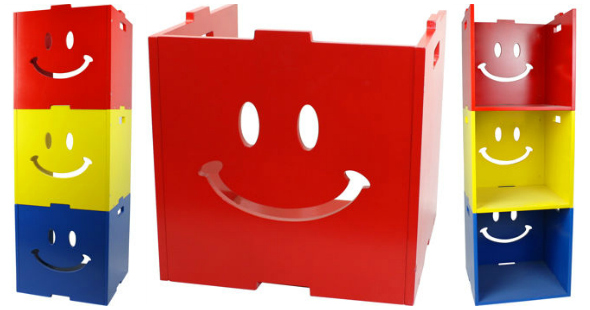 Another kids' storage deal for you, Moosers! (Three guesses as to what my New Year's resolution was.) I found this cute and whimsical Smiley Face Storage Cube Set at Costco.ca and couldn't resist. And, Costco has it labelled a Hot Buy! I've nothing to compare it to but Costco wouldn't lie to me, right? I did some searching around the web and couldn't find anything similar anywhere so you're getting cute, functional and unique all for $32.
Now you can be reminded to smile as you put away those toys for the fifth time in the span of two hours! Why they ALL need to be pulled out at once just to decorate the carpet, I will never know but how fun are these for getting kids to assist with clean up? The set consists of three brightly-coloured, stacking storage cubes. I initially thought they were plastic but it turns out they're even more heavy-duty. These guys are made of composite wood with a baked enamel finish and protective lacquer for protection and easy dusting and cleaning. So, they'll be pretty resistant to destruction but also heavy. In fact, Costco.ca has the package weight listed at 25 lbs.!
Each stackable cube is a good size at just under a foot square (11.8" x  11.8" x 11.8") and would be perfect for all the hard-to-store little toys that you'd prefer not stepping on! Blocks, cars, dolls, and so much more. The open side makes them easily accessible so kids can retrieve their toys in their own, too.
These cute boxes would obviously brighten up any playroom or child's room; they'd be great for a daycare, as well. They also provide an opportunity to talk about colours and shapes so the really little ones can learn their red, yellow and blue. You could make cleaning up a game! Ask them to put a certain toy in a particular box and you'd have the playroom tidy in no time while mastering the primary colours. Win-win!
The one review of the Smiley Storage Cube Set is very positive:
A good, solid toy storage unit. Assembly was not hard and looks great.
The $32 price includes Costco's shipping and handling to your door.
(Expires: Unknown)