Seebo Wise Pet Smartphone Protectors for Kids $16 @ Amazon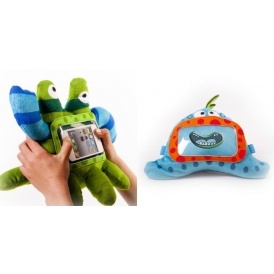 How clever are these cute little things? My son is forever stealing our phones and tablets and this is an amazing solution! Get a Seebo Wise Pet protector for your smartphone for just $15.66 at Amazon!

These funky plush smartphone cases are designed to be a cuddly protector for kids. Just slip your smartphone into the special pocket and let the kids play.
They have adjustable straps for use in the car (like a bra strap). Just adjust it to fit snugly on the back of the seat and kids can play their own apps or watch their favourite cartoons during long car rides.
Speaking of apps, Sealy and Stripy even have their own. Download the free Seebo app from the App Store or Google Play and they come alive. Everything the child says is said back -- they laugh, he laughs; give him a big smile or make funny noises!
Regularly $21.99, Amazon has these cute little critters on for just $15.66 right now. Add one to another order to meet the $25 free shipping threshold or buy two -- one for each phone!
(Expires: Unknown)