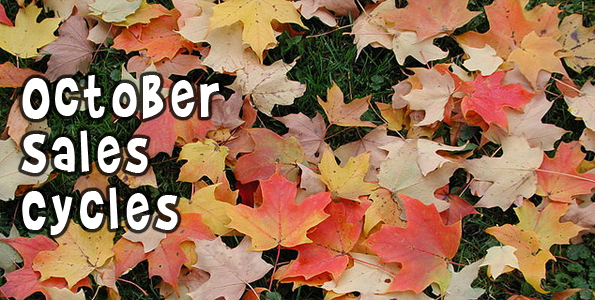 There are a lot of items that will go on sale in the month of October.  For some of these deals, you will want to wait until we are a couple of weeks into the month before you start to shop.
Clothing: Just like last month, summer items will be on sale at some awesome prices.  You will even find some great deals on fall clothing, but you are best to wait until November or December for that.
Thanksgiving Sales: These sales usually will not happen until after Thanksgiving.  You will find a ton of decorations and food at a fraction of the price specifically on turkeys, stuffing, and food items for big turkey dinners.  If you are looking for items like pumpkins and outdoor decorations, you are best to wait until the beginning of November after Halloween.

Gardening Supplies: Gardening season is coming to an end in most places in Canada, which means lots of sales.  Seeds, bulbs, and gardening supplies of all kinds will be on sale for some great prices. 

Camping Equipment: October is usually the month in Canada when camping is officially done for most people.  You will be able to find sleeping bags, tents and all kinds of camping supplies for a lot less because the season is over with.  The other thing you can buy at an affordable price is campers.  People & dealerships that want to sell their campers do not want to pay the storage fees for keeping the campers over the winter, so they sell them if they are wanting a new one in the springtime anyways.  If you have a place to store your camper for free and you would like to buy one for the next camping season, this is the time to do it. 
Toys: With Christmas just around the corner, a lot of stores are trying to get rid of overstocked toys to make room for all of the new toys to come out this holiday season.  Toy companies usually release new popular toys in November or December so that the kids will go crazy for them and the parents will buy them for Christmas.  This means that toy stores will have great sales on last year's popular toys. Sears Outlet Canada has toys up to 70% off right now for just this reason.
Household Items in Fall Colors: I love October because that is the time that I can freshen up my house at a fraction of the price.  After Thanksgiving, you will find a ton of deals on household items such as place mats, candles, dishes, blankets and other items like this in fall colors.  I personally love the fall color palettes of reds, greens, browns and yellows so I take advantage of this and restock on some items. If you like these colors or are not picky with the color, you can get some awesome deals. 

Before you head out to shop for anything in store or online, make sure to check out the Bargainmoose coupon forum.  We post coupons, both printable and codes, daily for you to take advantage of.
These are some of the great sales to look out for in the month of October.  What other deals do you like getting in October?