Retro CruiserStyle 22" Skateboard Was $50 | Now $30 & Free Shipping @ Showcase Canada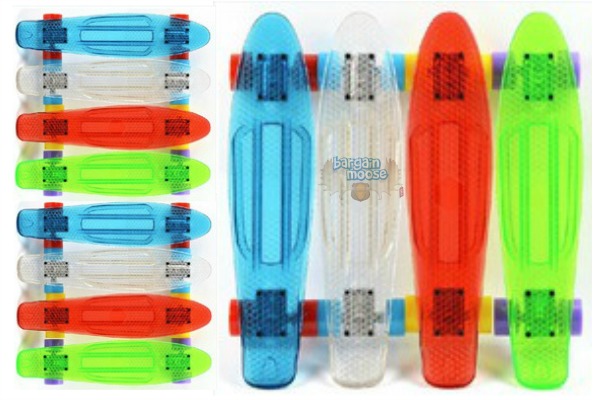 Classic never goes out of style, especially when it involves flying through the air on a hot summer day. You are going to want this Retro Cruiser Style 22" Skateboard to show off all your best moves this summer. Originally priced at $49.99, you can now buy it for only $29.99. Even better, this skateboard ships free!
I am not going to pretend that I am a skateboard expert, because let's face it I am no Tony Hawk. I do have many fond memories of sunshine, sticky popsicles and dragging the neighbours skateboard up to the top of the driveway for a ride down. At first, I would ride down sitting on the board because I was small and helmets were not mandatory back then. The only board I was allowed to use was a wide wood board that was mostly good for rolling around the terrified small dogs that lived next door. Later, once I finally learned to stand up, I moved up a level to a penny style board. These boards are slimmer, which allowed me to turn much easier than the shaky wood board I had used previously.
Every kid should have a skateboard, and every adult should try it again. Check out the awesome beginner board over at Showcase Canada. This is a 22" transparent board made of polycarbonate, which is more durable than those cheapie plastic boards on the market. Expect this board to stand up better to a ride at the skate park. You will also receive a free tote bag to carry or stow your board. The wheels are transparent just like the board and have seven bearings in each wheel. The metal pieces holding the wheels on to the board are made of shiny aluminum. This board holds up to 264 pounds, so my neighbour's dog should still fit on here nicely even though he is a Husky. Just kidding, only the small dog can go for a ride.
Canadian Tire sells a classic style wood Flameboy skateboard made by Wet Willy that is $42.99. Over at Amazon.ca, I found a 22" EightBit Banana Board with a plastic base made by Nova/Fury for $59.99. The only retro style board I could find that was comparable at Toys R Us Canada was a light-up board made by Halo for $69.99. Twinkly lights seem to be a popular feature because at Sears Canada, they also have a light up transparent style penny board for $59.99 that is similar to the board I am featuring.
Take this opportunity to throw back to an 80's summer. Turn on some music, grab some popsicles and take your awesome new board for a spin around the neighbourhood. This slick looking retro board will take you one step closer to a perfect lazy summer day. Just make sure to wear a helmet, we know more now!
(Expiry: Unknown)