Push Me, Pull Me Puppy now $17.50 @ Chapters Indigo Canada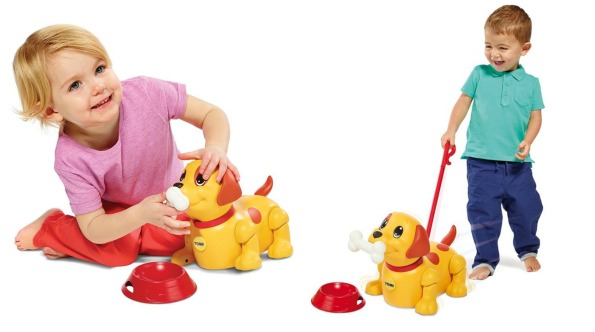 If your child wants a puppy, but isn't ready for the responsibility, why not opt for toy? This Push Me, Pull Me Puppy is currently half-price at Chapters Indigo online. It was originally $34.95 and is now only $17.50. So many children love toys that imitate real life, and they can do that with this little dog. There's lots of cool electronic dogs out there, but sometimes a toy like this one is much better, since your child can actually pretend to walk it, instead of it walking itself!

In the toy description, it says that no matter how much you pull and push this toy it won't tip over. While that doesn't seem too exciting of a feature, it's actually great for toddlers.  The toy glides, instead of walks for easy use.
This cute puppy has a sweet design, with playful little face and bright colors. It also comes with a dog bone and a dish. When you press the puppy's nose, he even pants! I know for one I would've loved to have a pretend puppy when I was a child. I was obsessed with dogs and my mom never wanted to get one. Needless to say I have a dog of my own now, but I still would've appreciated a toy like this one!
This item is eligible for free shipping for orders over $25, or you can order it and pick it up at a near by Chapters Indigo store.
(Expiry: While supplies last)