Pricematters Canada: Disney Infinity Starter Packs $34.99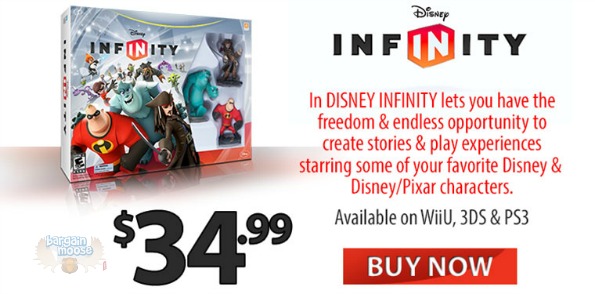 Looking to start out in the wonderful world of Disney Infinity but not sure where to start? Pick up a starter pack at Pricematters Canada for only $34.99, when they regularly retail for $69.99.
These are either re-certified packs with warranty or damaged packaging that does not affect the product inside; however, they will save you money while starting out in the wonderful world of Disney Infinity. There are three packs available:
There are limited quantities of each available. This sale is a great way to get your hands on this popular game and toy combo without spending too much. Just as a quick reference, these packs even on sale at Future Shop are $64.99. Each pack comes with three figurines: Sulley, Captain Jack Sparrow, and Mr. Incredible.
Once you pick up one of these I highly recommend wandering over to Eva's post on 2 for $15 Infinity figures to get some of the great new girl figurines from Frozen, Tangled, and more. I want to see Jack Sparrow vs. Elsa!
Pricematters offers free shipping on orders of $50 now, so you will have to pay for shipping if you just buy one.
(Expiry: unknown)