Please Mum Canada: Hand Me Down & Help Me Get Discounts!
(Bumped up on the 26th Feb 2009, as this started today)
Calling all mommies and daddies! Do you shop at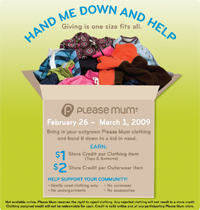 You can get:
$1 store credit per item (tops & bottoms)
$2 store credit per outerwear garment
Some tips:
Gently used clothing only
No undergarments
No swimwear
No accessories
It doesn't say who they are donating the old clothing too – I'm assuming it's some charity.
Oh – I just noticed a way to get an extra 10% discount on your purchases too! I forwarded the email to 5 "friends" and they mailed me a 10% discount coupon!
Click here to print out your free coupon for 10% discount @ Please Mum Canada.
These deals are applicable from the 26th Of February to the 1st of March 2009. I'll bump this post up a bit closer to the date. :)
If you don't want to donate your old childrens clothing, you could go to the trouble of trying to sell the kids apparel on ebay. I see quite a few people selling kids clothes on there, and a few of my family members have done it too. I think it's a very time consuming process though, with very little reward for the time you put into it.
Alternatively, tell your family members to have lots of babies, so you can pass the clothing on to them.