(EXPIRED) Play-Doh Super Color Pack (20 Cans at $0.57!) Only $11 @ Amazon.ca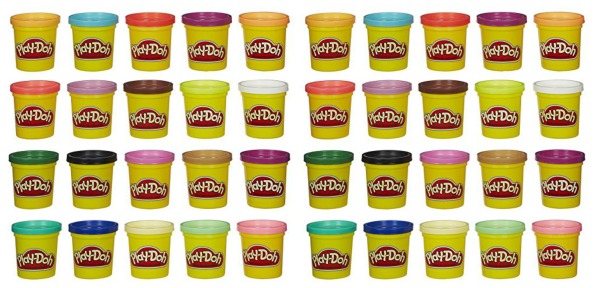 Play-Doh is so underrated. It's been around for a long time, and can entertain kids of all ages. When you buy a regular pack of 3 Play-Doh cans, they dry up in no time. With this Play-Doh Super Color Pack, your family will be playing with Play-Doh for a while. Amazon currently has these 20 cans for only $11.47. That is 48% off their retail price of $21.99.
At this price, this deal is not going to last long. You'll be paying $0.57 per can. You can't even get a deal this great are your local dollar store. I don't think anyone needs that much Play-Doh all at once, but there is no harm in stashing some away. This bulk pack would also be a great deal for a daycare owner!
I've been going to the speech therapist with my son every week, and believe it or not she has used Play-Doh in her sessions. Since adults know how to play with it, children will look at them for guidance and that's how the speech therapist used the Play-Doh. She made him repeat the words of the things she was doing with the Play-Doh, like rolling it and squeezing it.
Shipping is free when you spend more than $25 at Amazon, and is also free if you're an Amazon Prime subscriber!
(Expiry: February 9th 2016)