Num Noms on Sale from $3.50 @ Chapters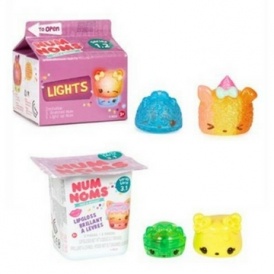 Num Noms are taking over! They're on a lot of Christmas wish lists this year, and you can pick up collectible and playsets on sale now from $3.50 at Chapters!
From the sounds of it, these little squishy characters just might be the next Shopkins!
If you're still not really sure what Num Noms are, don't worry – you're definitely not alone. Essentially, each collectible pack comes includes a Num (a little scented squishy) and a Nom (a flavoured lip gloss that doubles as a pencil topper). You can stack them on top of each other to make all kinds of cute combinations, too!
For the collectibles, Chapters has three kinds of packs on sale: Lights Mystery Pack Series 3 Wave 1 ($3.50 down from $8.95), Lights Mystery Pack Series 3 Wave 2 ($3.50 from $8.95) and Lights Mystery Pack Series 1 Wave 2 ($6 from $8.95).
If it's toys you're after, the Num Noms Art Cart ($17.50 from $24.95) and Num Noms Lights Freezie Pop Maker with Food ($24.50 from $34.95) are both on sale, too!
The super popular Num Noms Lip Gloss Truck and Num Noms Nail Polish Maker are both still regular price, but we'll let you know if and when they go on sale!
Orders over $25 ship free, or you can ship any order to a Chapters store for free.