Nintendo Throwback Sale: Up To 50% Off Pushmo World, Yoshi's Island, Super Mario 3D World & Others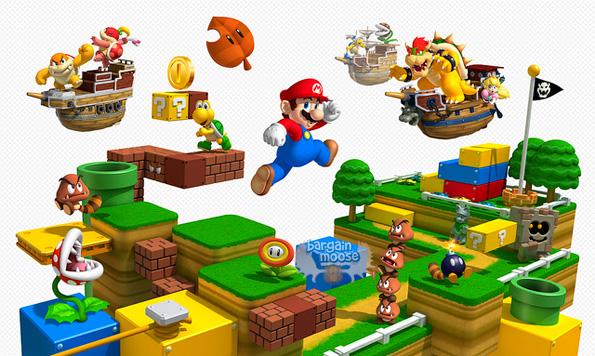 In honour of Throwback Thursday, Nintendo has discounted a couple of Nintendo 3DS and Nintendo Wii U games and during the next couple of days, you can save up to 50% on a select number of these!
Below, you will find a list of the games that you can get on sale.
Nintendo 3DS:
Pushmo: reg. $7.49/ now $3.49
Yoshis New Island: reg. $44.99/ now $33.49
WII U:
Yoshis Island Super Mario Advance 3: reg. $7.99/ now $5.99
Pushmo World: reg. $10.99/ now $7.99
Super Mario Galaxy 2: reg. $21.99/ now $10.99
Super Mario 3D World: reg. $59.99/ now $44.99
I can never praise Super Mario 3D World enough. Featured in the image above, it's a game that I played on countless wine-filled evenings with my hubby and we've had a blast. You can play by yourself but it's much funner to play together with someone else as you can work together to figure out how to beat the levels and find the hidden items. Even better is that once you beat the game, it still won't be over... play to find out what I mean! ;)
Since I have a Wii U, I'll most definitely be getting the other games as they're so cheap. Well, anything under the usual full price of $59.99 is cheap to me, especially when the price hovers around $10.
If you scroll all the way down to the bottom section on Nintendo's Throwback Sale page, then you will also see more price drops for the Nintendo 3DS and Wii U.
For the Nintendo 3DS, for instance, you could get Secret Mysteries in New York on sale for $3.48 (reg. $6.25) or for the Wii U, I found Color Zen Kids for $2.79 (reg. $3.99).
I was surprised that the cheapest game for the Nintendo 3DS is Darts Up 3D, which is on sale for just $0.99 (reg. $2.99) -- less than $1 for a game is truly amazing!
Keep in mind that these are all available as digital downloads but that shouldn't be too much of a problem since you will be saving money. CDs are becoming obsolete anyways, so it shouldn't make too much of a difference. :P
(Image Credit: Ricardo Saramago)
(Expiry: 22nd January 2015 @ 8:59am PT)