Nintendo: Super Smashing Sale - Several Titles On Sale Including Zelda: A Link Between Worlds For $30 (Expired)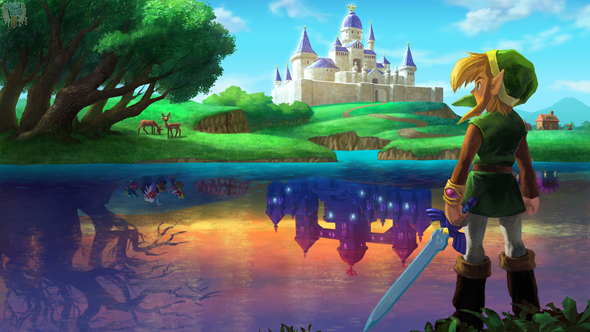 Nintendo is lining up all of their arms for the upcoming release of Super Smash Bros. for the Nintendo 3DS. Their marketing team is hard at work to spread the word so that every man, woman, and child in North America will know that Super Smash Brothers is going to be huge! Well... let's not get too carried away here. Either way, the game is on its way out, and Nintendo is celebrating this by having a sale on a number of their older titles for the Nintendo 3DS, and for the Wii U Virtual Console. You'll be able to directly download these games unto your Nintendo 3DS or Wii U system, so you can play these games shortly after purchasing them!
You can click on the link above to check out the full list of 3DS and Wii U games that are on sale this week (this promotion will last until September 18). Some of the popular titles on sale include the excellent The Legend Of Zelda: A Link Between Worlds for the 3DS ($29.99 - was $39.99), the rare Kid Icarus: Uprising  for the 3DS ($24.99 - was $34.99), and even some classics like The Legend Of Zelda: A Link To The Past for the Wii U ($4.99 - was $7.99) and Mega Man X ($4.99 - was $7.99).
Though my first video game system was the original Nintendo, I especially fell in love with my Super Nintendo system. There were so many games that kept me occupied during those early years of my life, and they still hold up to this day. For instance, one of my favourite games of all time is included in this sale (The Legend Of Zelda: A Link To The Past), which I first played on the Super Nintendo system.
I still remember the day I got that game for my 7th birthday - I got home from my grandma's house around midnight that night, because we were driving through a terrible snow storm! Thanks to my dad's driving skills, we made it home without any issues. Of course, the first thing I did when I got home was - you guessed it, I played some Zelda! I was sent to bed after approximately 3 minutes, but I still got to try it out that night!
A great game in this sale is The Legend Of Zelda: A Link Between Worlds for the 3DS. It normally costs $39.99 at Best Buy and Future Shop, so you'll be able to save $10 on this deal. I've listed a snippet of a review of this game from a satisfied Best Buy customer below:
I'm a huge fan of A Link To The Past and this game takes that to a whole new level making for a much more rich experience. I wish the other titles on the 3DS or Wii U for that matter were this good.
Happy gaming, Bargainmoosers - I hope you all enjoy your weekend!
(Expiry: 18th September 2014)