NHL All-Star Hockey Pinball Game $34.99 @ Mastermind Toys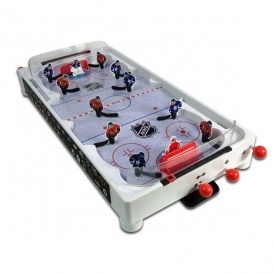 Any hockey fans in your house? There are 3.5 in mine, and they can't seem to get enough of the game.
So I'm thinking of grabbing this NHL All-Star Hockey Pinball Game that's on sale for $34.99 (reg. $49.99) at Mastermind Toys and putting it away for a rainy day (which we're having no shortage of lately!).
This game has a sloped surface to keep the action moving fast, and you can pass the puck from blue line to blue line on the large playing surface. It comes with the rink, 180 player pieces, 2 metal balls, 2 nets, 2 barriers, 2 score-bars, 2 ball-return trays, and of course the instructions.
So, who want's to play?!
Mastermind offers free shipping on orders over $49.