NEW Elmo & Cookie Monster @ Build-a-Bear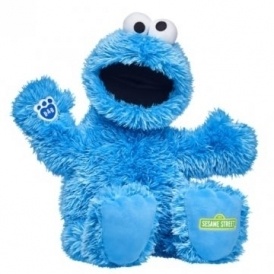 Build-a-Bear has done it again. They have just launched their new Sesame Street collection and I am going to buy them all. Now you and the kids can Make-Your-Own Elmo and Cookie Monster complete with the sounds of Cookie Monster eating his favourite thing - cookies!
You can grab Elmo or Cookie Monster for $25.50 USD as well as a ton of Sesame Street accessories.
If buying the Cookie Monster, I would definitely grab the Cookie Monster Wristie for $4 USD and the Cookie Monster 6-in-1 Sayings for $7.
You can also get the Red & Blue Sesame Street Outfit 2 Pc. for $12.50 or the Big Bird Hoodie (how cute?!) for $12.50.
These toys and accessories are available in-stores as well, which may be your better bet since the online store is charged in USD and ships from the US. You may be hit with duties as well, so pay attention to that when ordering online.