Moonlight Madness at Toys 'R' Us Canada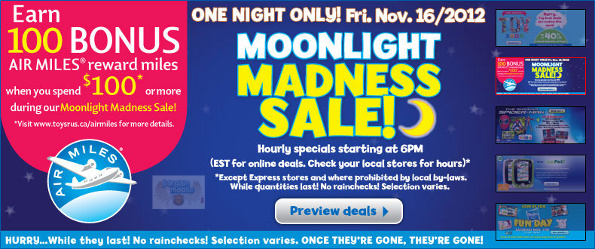 Toys 'R' Us Canada is having a one-night only sale tonight on tons of items in-store and online. From 6pm until 12am, get great deals and earn 100 bonus Air Miles reward miles when you spend $100 or more during Moonlight Madness.
I am an avid price watcher, especially at Christmas when I know the toys my kids want will go on sale. So I patiently wait until whatever is on their wish list goes on sale, and I pounce. Toys 'R' Us's Moonlight Madness sale is the perfect opportunity for me to almost finish my kid's Christmas list.
My oldest son loves those little metal flying discs they call Beyblades and they are buy 1, get 1 half off. The hot Beyblade toy is the Metal Fury Destroyer Dome. Pair that with the Beywheelz Crash Course Battle Set and you've got one toy for only $15.
Video games are always a hot gift idea for kids (and many adults!) and Toys 'R' Us has a sweet deal on all video game software over $29.99. You can mix and match from any system including PS VITA, PS3, Wii, XBOX 360 and Nintendo 3DS and get 15% off one, 20% off two, or 25% off three games. This is a great deal for people with more than one system, or if you are buying for different people with different systems. If I decided to get Mario Party 9 for Wii ($49.99), Super Mario Brothers 2 for 3DS ($39.99) and Marvel Avengers Kinect for XBOX 360 ($49.99), I would get 25% off all games, giving me a total of $104.98, which is awesome for three of the most wanted video games out there right now.
My youngest son is a huge fan of Batman and so far I have seen no sales for it. Well, my patient waiting has paid off and all $29.99 and under DC Universe figures, vehicles and role-plays are 25% off at the Moonlight Madness sale. The Movie Masters action figure will get the most play out of any toy I buy this Christmas, and for only $17.24, I can't not get it for him.
Shipping: Depends on quantity of items and location of delivery.