Mega Bloks First Builders Build'n Learn Table was $54.99 is now $29.98 + Buy 1 Get 1 1/2 Off all Clearance @ ToysRUs.ca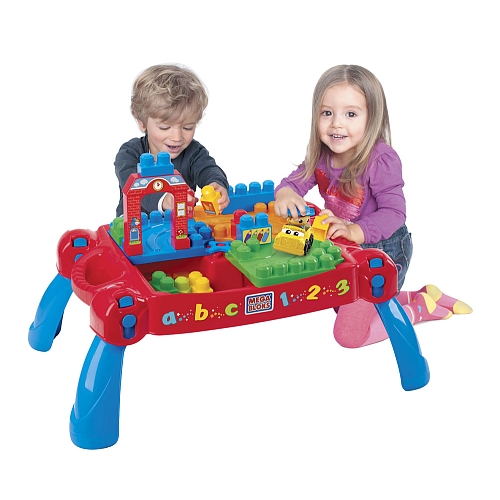 Toys R Us is having a buy one get one half off sale on their clearance sections and I am loving some of the items on sale. The Mega Bloks First Builders Build'n Learn Table was originally $54.99 and is now reduced to $29.98. If you buy a second item in the clearance section, you can also get the lower priced item half off. I love when you can stack deals on top of already reduced merchandise for some serious discounts. Shipping is free on orders over $49. You can also pick up your order for free in stores.
If you have a lot of friends that are young moms, why not make the most of this deal by buying two of these Mega Bloks tables for future birthdays? I think it would make a great gift, especially that it is under the $30 threshold which is a reasonable amount for a birthday gift these days. Of course it's always the thought that counts but I'm sure I'm not the only one who wonders what is considered reasonable. If you're not sold on getting two of these Mega Bloks First Builders Buildn'n Learn Tables, there's lots of other options to choose from in this sale.

To get the most out of this deal, I would suggest buying a second item at a similar price. Here are some of the toys at similar prices in the clearance section that caught my eye, along with their prices calculated with the buy one get one half price clearance discount:
Mega Bloks are for kids of all ages. My son got his first set when he wasn't even one and still plays with them now. Even if you kid is old enough to play with LEGO blocks, Mega Bloks can still be fun. Now that I think about it, my son's Mega Bloks are his oldest toys. The manufacturer even recommends the Mega Bloks from 12 months old to 5 years old. Great life span for a toy.
Like I previously mentioned, shipping is free on orders over $49 and in-store pickups are free with any purchase. More stores are offering the in-store pickup option with no minimum and that is such a great options for people who live nearby shopping centers.
Happy Shopping!