Mastermind Toys: Telescope & Microscope Save $80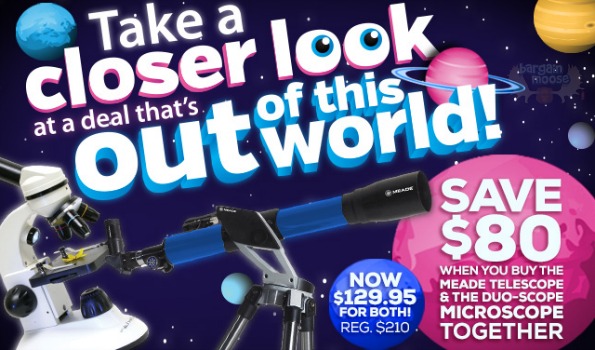 Nowadays, our kids have so many toys it is hard to justify getting them more for birthdays and Christmas.  I would rather get them something that they will like but can learn from.  Right now you can get a great deal over at Mastermind Toys on some items like this.  Get their telescope and microscope duo and you will save $80.
Here is how this deal will work.  The regular price of the Meade NG60 Telescope is $119.95 and the regular price of the My First Duo-Scope Microscope is $89.95 making the total $209.95.  For a limited time only, when you buy them together, the price for the duo will be just $129.95.  That is a savings of $80 in total.
These toys are rated for children either 8 years old and up or 9 years old and up. They would make a great birthday or Christmas present for any child that is interested in astronomy or science.  They are also a great deal for a teacher to get for their classroom.
As for the cost of shipping, you will get free shipping for most orders of $60 or more.
(Expiry: 1st October 2013)