Mastermind Toys: Free Gifts with Purchase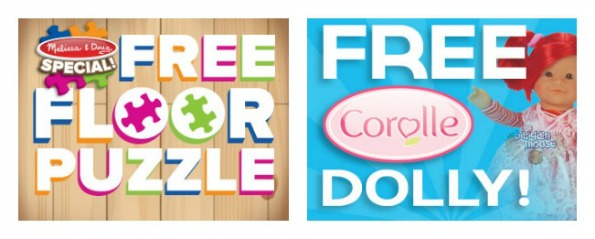 This week at Mastermind Toys, there are a couple of great deals that will include a free gift with purchase.  You can get a free Melissa & Doug floor puzzle or a free Corolle Dolly.
The first deal I took advantage of this week already and I am pretty excited to get my order in the mail.  When you buy $30 worth of Melissa & Doug products, you will get your choice of 15 different floor puzzles to add to your cart for free.  First of all, I was a teacher for 7 years and I used Melissa & Doug items in my classroom all of the time.  They are fun, educational and very good quality for the kids rough play.
At the checkout once you add $30 worth of items, a new tab above your order will appear for you to click and choose your free floor puzzle.  The floor puzzle would normally cost you $17.95 so this is a great free gift with purchase value!
The second deal happening that is also really good is with the Corolle line of toys.  When you spend $50 or more on Corolle products, you will get a free Corolle Dolly that is valued at $19.95.  Spending $50 on this line is the equivalent to approximately 1 doll so you will basically get 2 dolls with this deal but just pay the cost of 1.  They also have accessories that you can look through and add to your cart that will count towards this deal as well.
These are both great deals to take advantage of with Christmas coming up in just a few short months.
(Expiry: 9th October 2012)