Mastermind Toys Canada: Free Aquabeads Refill Kit with Aquabeads Kit Purchase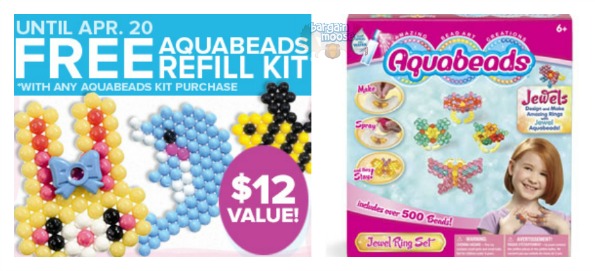 Aquabeads are one of the few trends that have been around for a little while now and are still pretty popular. Right now over at Mastermind Toys, you can get a free Aquabeads refill when you purchase any of the Aquabeads kits.
The refills kits are priced at $11.99 so this is  a nice little freebie to get with your purchase. Since the actual kits start at just $15.99, it is almost like getting double for your money.
The Aquabeads are a fun and easy crafts for kids to do. Simply layout the design and spray with water to create intricate patterns of multi coloured beads. You can create pieces of jewellery like rings, bracelets and necklaces, or even barrettes for your hair.
Each set comes with the beads you will need to make your creations, the tools, the beading pen and anything else you will need.  Once you have made a bunch of creations and have run out of the special beads, you buy the bead refill kits for $11.99 instead of having to buy an entire new starter kit.  This free gift of refills will make it so you can make your designs for a very long time without running out.
Something like this would make a great birthday gift for a little girl. They are all listed for ages 6 years old and up and are pretty popular with the tweens right now so it would be sure to be a hit!
Mastermind Toys offers free shipping for orders of $60 or more.
(Expiry: 20th April 2014)