Mastermind Toys Canada: 4 FREE Playmobil Figures with Soccer Match Purchase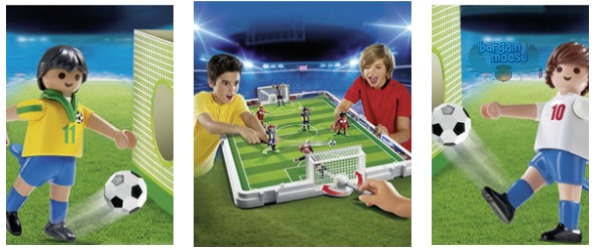 My boys have just discovered Playmobil toys within the last month or so and they absolutely love it. For that reason, I have been on the hunt for some Playmobil deals for their birthdays coming up.  I found a great deal happening over at Mastermind Toys. You will get four FREE Playmobil figures with your purchase of the Playmobil Soccer Match.
The Playmobil Soccer Match has 30 different items and it is priced at $79.99, which is pretty good for such a big Playmobil set.
Here is what this set will include:
One walled playing field that converts into portable storage case, two goal nets with goalkeeper control handles, two removable goalkeeper figures, four player figures with manual kick function, two soccer balls, four grass base plates, and number stickers to customize player jerseys.
Once you have added the Playmobil Soccer Match to your cart, you will be prompted to choose your FREE Playmobil figures. In total, there are eight different figures to choose from.  All of the figures have the same movable parts but they are distinguished by their team look, hair style and country they play for.
All of the soccer figures would regularly cost you $3.99 each so the grand total of freebies is $15.96. Not bad at all for a freebie!
This is perfect timing since they just had the Soccer World Cup and soccer is so popular right now.  You can get your favourites such as Brazil, England, France and even the grand winner Germany as your freebie players. I know my boys will love this set because they are really into sports (specifically playing soccer in the backyard) and they love all Playmobil.  They treat them like action heroes which is pretty cute and great for the imagination.
If you are looking for more Playmobil items for your kids, Mastermind Toys has that covered.  They have a huge variety with over 500 different sets, figures and accessories to choose from in total.
If you are looking for the shipping information, we have that as well.  You will get free shipping on your order since it meets the minimum requirement of $60 or more. Free shipping is always a nice little bonus!
(Expiry: 17th August 2014)