Mastermind Toys: 40% Off The Meteor Rocket Science Kit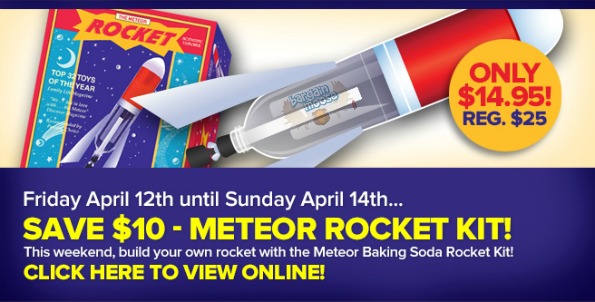 If you have someone in your household who is nine years old or older, Mastermind Toys has a great deal for you to check out.  They have an award-winning Meteor Rocket Set on sale for just $14.95.
The price of the Meteor Rocket Set was $24.95 but is now just $14.95 making it 40% off the regular price, this weekend only.
This multi-award winning toy was voted in the 100 Best Children's Vacation products by Dr. Toy, recommended by Parent's Choice, and among the top 32 Toys of the year from Family Life Magazine!
This set includes 1 plastic bottle, 3 balsa wood pieces, 1 sheet fin template, 1 pre-cut clear tubing, 1 nose cone, 10 in. of weather stripping, 2 pieces red plastic film, 1 piece silver duralar, 1 fueling module, 1 fin holder, and an instruction booklet.
As for the cost of shipping, Mastermind Toys offers free shipping for orders of $60 or more.
(Expiry: 14th April 2013)