Mama Goddess Birth Shop: 20% Discount!
As I have previously mentioned, I like blogging about small Canadian owned and operated stores, and spreading the word about them. You don't always have to buy at the big box stores, it's good to support the little ones too. Mamagoddessbirthshop.com is one such business. They are a proudly Canadian site for mamas, which sells a load of things, from organic herbal teas to water birth pools!!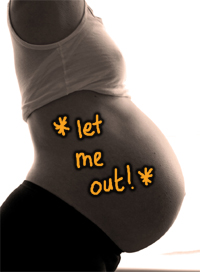 I'm on their mailing list for email newsletters, and they emailed me today with an interesting coupon code. Apparently, they've been having server problems, so decided to release a 20% discount coupon in celebration of them getting fixed! Here are the details:
It's all in the name:
I do find their store name quite odd – Mama Goddess Birth Shop! It's a bit of a mouthful, but I guess it tells you exactly what they are – a maternity store. If you want, you can join their newsletter, and receive their monthly updates, including more discount coupons.
Some products:
This "blossoming belly" tee-shirt is pretty cute! It would be $15.16 after the 20% coupon code was applied. They actually say it's extra long, which makes it perfect for doing yoga in! I'm not preggers, but I always have that problem at yoga – you're stretching about the place, and constantly having to pull down your tee to cover your belly or your bum cleavage.
If you fancy a home birth, how about an inflatable birthing pool!? The "La Bessine" pool would be $112 after the discount coupon is applied. You can even buy all the accessories to go with it, such as waterproof sheets and debris nets!!!
Shipping:
If you live in the Vancouver area, you can actually save on shipping costs by picking up your order. Otherwise, you have to pay extra for shipping within Canada, but it seems fairly reasonable, and depends on how much you are spending. At least the 20% coupon helps towards those shipping costs!
Thanks for the pic jezm2000!