Finally! Lil' Gleemerz Are Now Available in Canada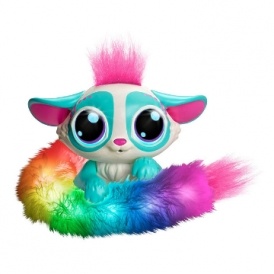 They're cute, they're cuddly – and they light up? Get ready parents, because Lil' Gleemerz are set to be some of the most popular toys this Christmas – and they're finally in Canada.
I've been waiting to see these little critters pop up on this side of the border for a while now. And since they're here, you might want to scoop some up before they sell out!
Now for the question I'm sure many of you are asking: What are Lil' Gleemerz?
Well, they're mythical creatures that with tails that can light up with all the colours of the rainbow. These interactive toys respond to touch and sound (with over 100 different reactions), and you can press their noses to play in different modes.
There are three so far to choose from: Adorabite, Loomur and Amiglow. Each one can purr, growl, fart and flash light shows – and you can even use their paws to hang them from a laptop screen.
They remind me a little bit of Furbys, and that hair makes them almost look like troll dolls. So far, I've only seen them at Amazon.ca and Mastermind Toys, but I expect them to pop up elsewhere soon.
They quickly jumped to the top of Amazon Canada's toy bestseller list as soon as they launched, so there's really no telling how long they'll stay in stock. If they do sell out, make sure you check this page between now and Christmas, because we'll update it when they're back (and hopefully on sale).
If you like this, you may like these...