Lego Duplo on Clearance From $3.48 @ Toys R Us Canada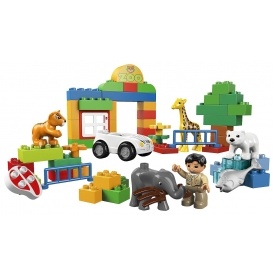 My son isn't quite old enough for LEGO yet, but he does adore LEGO Duplo! If you are in the same boat, then you are going to enjoy this offer from Toys R Us Canada right know. While supplies last, you can shop at ToysRUs.ca and get LEGO Duplo products on clearance sale from $3.48. Plus you can also use the code BRCMAR to get $20 off $100 if your total gets that high. I love when discounts can be combined.
LEGO Duplo is best suited for kids between the ages of 2 and 5. My son is three and adores this stuff. It is easier for him to put together than the classic LEGO, and it also doesn't get lost as easily. It may hurt more when you step on it though, so be wary of that. I may have cursed a few blocks in my days.
The LEGO Duplo Toddler Build and Boat Fun looks like a lot of fun for any little one. This set will allow your tot to improve their hand-eye coordination while building a colourful boat. This boat set is on sale from $13.98 down to $9.78.
I also really like the looks of the LEGO Duplo Forest Fishing Trip. This set is on for a great discount and it looks like it also has a lot more to play with. The Forest Fishing Trip play set is on sale from $20.98 down to $14.88. If you are wanting a bigger set like this, then I also suggest the LEGO Duplo Beach Racing which is on sale from $17.48 down to $9.98. I think any little one would also enjoy the LEGO Duplo School Bus which is now $13.98, down from $19.99.
It looks like all of these items qualify for free shipping on everything when you spend $49. I think your absolute best bet is to try and spend $100 so you get the $20 discount as well. Even if you don't spend it all on LEGO, there are plenty of other items on clearance sale as well.
(Expiry: Unknown)