Jurassic World Hatch 'n Play Dinos are Now in Stock!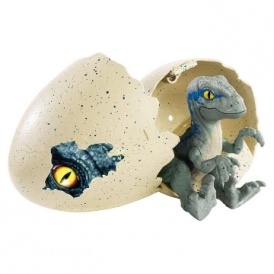 Know a Jurassic World fan? If your kids are obsessed with Blue and pretty much any other dinosaur, check these out.
There's a whole new line of Jurassic World toys out now in Canada – and you can actually hatch your own dinosaurs!
Officially, they're called Jurassic World Hatch 'n Play Dinosaurs, and each one is an egg that houses a dino from the movie.
Think of them a little like Hatchimals. These little guys only hatch once, but they're MUCH more affordable – and they look just as fun.
Each egg starts at $22.97, and they all have a little crack on the front and a DNA code that activates when you push on the top of the egg. Soon after, you'll see an eye stare at you from the crack! Then just watch as the egg cracks even further to reveal a baby dinosaur.
There are four dinosaurs I've seen so far: Blue (the Velociraptor), a T-Rex, a Triceratops and a Stygimoloch. The best price is at Walmart Canada (where they cost $22.97 each). Otherwise, you can find them at Toys R Us Canada (for $22.99 each) or Amazon.ca (at a pretty steep markup).
If you like this, you may like these...