It's Showdown Time! Pie Face Version 2! Pre-order Now $34.99 @ Toys R Us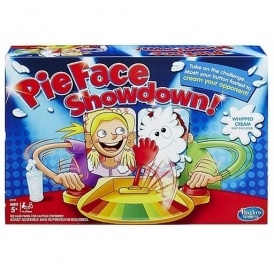 The original Pie Face Game went viral on YouTube and people snatched it up off of the toy store shelves. You'll find the second version, 'Pie Face Showdown' to be even more hilarious because now two people are in the hot seat.
You can't buy this game yet but you can pre-order it at Toys R Us for $34.99. The estimated ship date is October 7th. This could be one of those hit games that sells out quickly, so pre-ordering is your best way to get your hands on some pie.
Click here to order the Pie Face Showdown game @ Amazon.ca.
Pie Face Showdown game is a game for family and friends and you'll laugh so hard. The suspense is really amazing/scary/fun because you have no idea of when it will go off and smack you in the face with the whipped cream.
Here's how it works:
Two Players load the arm with whipped cream onto the sponge. Everyone places their chin on one of the chin rests and at the count of 3, rapidly mashes the button nearest to them, which activates the hand on the throwing arm. A warning here: kids are probably faster 'button mashers' than you are - they're used to that type of repetitive hammering action when they game on their consoles.
The suspense builds as players try to get the arm to move toward their opponent and when it gets too close to the pie thrower, it springs up and flings whip cream in the player's face. Whoever doesn't get "pie-faced" wins. Easy enough to keep score. Pretty much any age can play this, it's a great game for family game night.
Shipping is free if you top up your order to $49 or higher right now with an eligible item, otherwise shipping will vary, starting from around $10.