Half Price 31" Star Wars Figures only $20 @ Walmart Canada!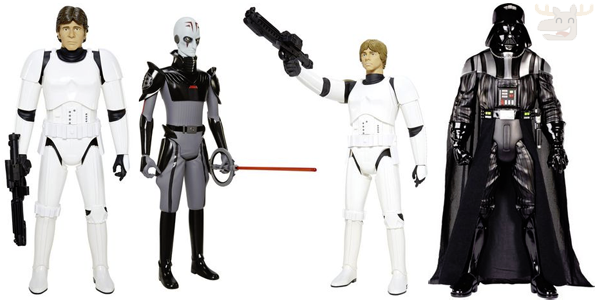 Over at Walmart Canada, there's a half price offer on some 31" tall Star Wars characters. These items were originally priced at $39.96, but they're all only $20 just now! You can choose from the ever-popular Darth Vader, Luke Skywalker, Han Solo or a Rebel Inquisitor.
When Avigayil previously wrote a deal about similar items back in Boxing Week, a few of these figures were on sale for only $15, slightly better than today's price. But at that time, you couldn't buy Darth Vader, who is definitely the most popular character in the bunch.
Here's a quote from the Darth Vader page:
Darth Vader features 7 points of articulation, real fabric cape and measures over 2.5 feet tall!
Wow! I actually thought these were small action figures when I glanced at the images, but they're actually really tall!
I bet there are collectors as well as some young kids who'd love these toys.
As for shipping, orders under $50 on Walmart.ca do NOT ship for free, so you could top your order up to that level. OR, just order online and collect for free at your local Canada Post. Handy!
(Expires: Unknown)