Half Price 26" Avigo Freedom Bike $125 @ Toys R Us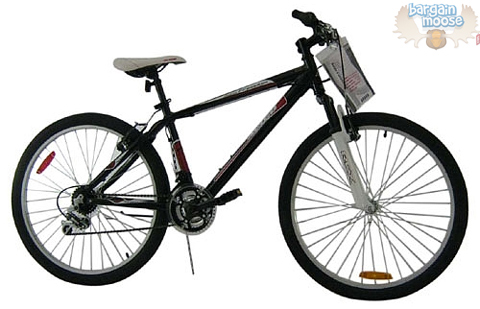 If you're in the market for a new bike, Toys R Us has a half price offer on the 26" Avigo Freedom Bike. It was $249.99 and it's now $124.97. Sounds like a good deal.
Now, I don't know a lot about bikes, but I believe a 26" bike is a full size adult bike. It doesn't say whether this bike is specifically made for one gender or the other. In my opinion, I'd say it was unisex.
Some more specifications:
Aluminum MTB Frame
Front Suspension Fork
Shimano 21 Speed (7 Speed Rear Derailleur & DNP Front 3 Speed)
Threadless Headset
"MTB semi-smooth 26" x 1.95"
I've been on the lookout for a bike actually, I haven't owned one since I was a teenager. I would really like an old style classic bike though, but the prices I've seen so far are quite expensive. I don't expect to use it much, maybe a few times a month, so I don't really want to fork out hundreds and hundreds on it. I plan on getting a baby seat installed on the back so I can take my 1 year old girl out and about. I think she would love seeing all the happenings from that vantage point.
(Ends 23rd June 2011)