Google Play: Castle Of Illusion For iOS & Android For $0.99 (Expired)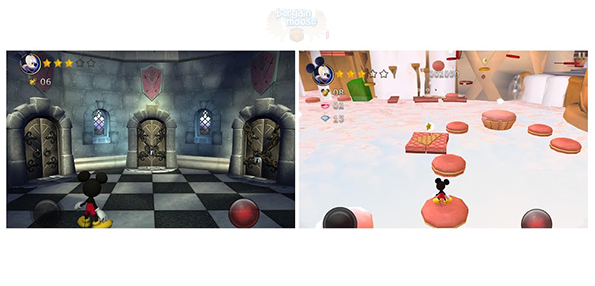 Oh, boy! Does anyone remember playing the original Castle Of Illusion: Starring Mickey Mouse on their Sega Genesis or Game Gear systems back in the day? No? Well, Sega completely revamped the game, giving it a complete, gorgeous makeover and bringing it into the 21st century! It has some wonderful voice acting from Disney's iconic animated mouse, thrilling game play, and lavish graphics that will wow even the most prudent sceptics. Google Play is offering the iOS and Android versions of this game for only $0.99 - that's 90% off of the regular price of $9.99! There's no expiry date listed for this sale, so grab it while you can!
I bought this remake of Castle Of Illusion for my Xbox 360 roughly two months ago at its regular price ($14.99 for the Xbox 360) and I thoroughly enjoyed it. In fact, I still do enjoy it, since there's plenty of secret areas that you can discover, so I still occasionally replay some of the levels for fun. I also like the fact that there's a narrator throughout the game, which really makes it feel like you're watching a cartoon (the graphics are just that good - click here to check them out).
What's funny about this game is that I never actually played the original Genesis or Game Gear versions until I tried out this remake. I was so satisfied with this game that I ended up tracking down and buying the original Sega Genesis version. Castle Of Illusion provides Disney fans (and even non-Disney fans) with a fun adventure, great platforming action, and enough of a challenge to keep players coming back for more.
This Disney masterpiece gets high praise from most critics- it has a score of 81 out of 100 on Metacritic, and normally costs $9.99 (only a digital copy is available for this game - they didn't release retail versions of Castle Of Illusion for any systems, including the Xbox 360 and PS3). Listed below is a snippet of a review from Pocket Gamer UK:
Castle of Illusion combines old school challenge with impeccable presentation to create a fitting tribute to one of the 16-bit era's finest platforming classics.
If you're looking for a $0.99 game for your iPhone, iPad, or Android device that will keep you entertained, this is it. Sega is known for churning out quality titles, and Castle Of Illusion is no exception. Download it while the price is still low!
(Expiry Date: Unknown)