*Glitch?* Up to 60% Off Sale & 20% Off with E-mail Sign Up @ Crocs.ca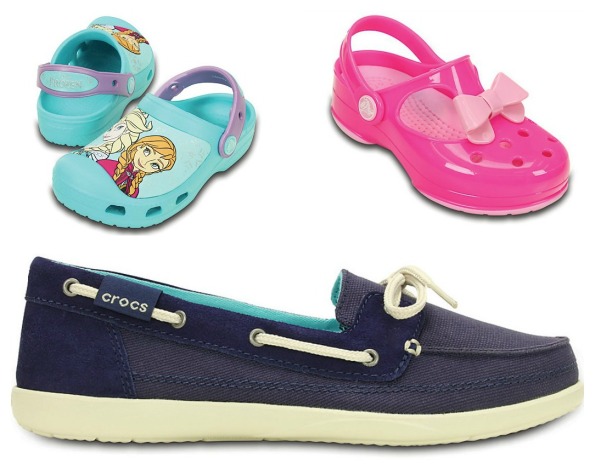 Are you one of those lucky snowbirds? I've found some great deals at Crocs online for warmer weather that I'm excited to share. Crocs's sale section is currently up to 60% off and those sales can be stacked with their e-mail sign-up offer of 20% off! The e-mail offer specifically states that the 20% discount does not apply to their sale section, but it worked for me so this must be a glitch. Crocs rarely has this many styles on sale, so this is the perfect time to take advantage of this extra discount. The 20% off e-mail sign-up offer is sent to your mailbox upon sign up. I got mine under five minutes!
If you're going down south, or just preparing for the summer, Crocs are a must have, especially for kids. They are the perfect beach shoes for children, protecting their little feet while they play in the sand and water. I love that I can just wash my child's feet out in the water while he wears his Crocs. The water just runs right through them and the sand and dirt are washed away. With sandals or closed shoes, the sand and dirt always manage to stick around long after we have left the beach.
If you're thinking of bringing your family along for your trip down south, here are some adorable Crocs that will protect your kiddos feet while playing outside (prices are calculated with the 20% off welcome offer):
Here a couple of options for the ladies, that could be worn this summer or on your upcoming trip (prices are calculated with the 20% off welcome offer):
I remember when Crocs became popular because of the ultimate comfort they provided. Over the years, their designs have gotten much better, with many fashionable options to choose from. The comfort they are known for still remains and I won't be parting with my Crocs anytime soon. I also use Crocs as indoors shoes for my son at daycare. He has his sneakers for sports, but he wears his Crocs to play around. They let his feet breathe and keep him comfortable all day long. Plus, he looks really cute in them.

Shipping is free on orders $100. Orders under $100t are shipped by Fedex for $9.99.
(Expiry: Unknown)
Moosers, are you planning to escape the winter cold?