GigaTent Fun Hub Play Tent $37 & Free Shipping @ Amazon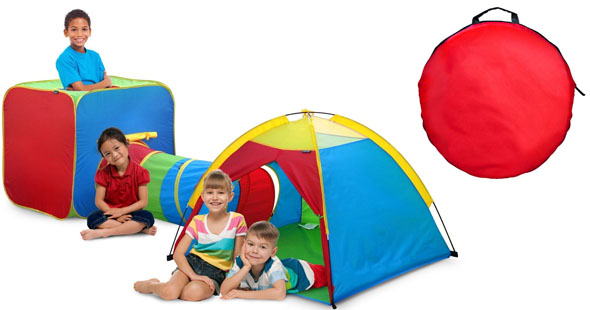 Do you ever see toys and find yourself a little upset that you didn't have something similar growing up? Toys are just so cool nowadays. I remember my Etch-a-Sketch, which I'm pretty sure I thought was magic. And my Lite Brite and Easy Bake Oven were the absolute height of technology back then. Anyway, I stumbled across this GigaTent Fun Hub Play Tent on Amazon.ca and, although not high-tech, it looks pretty darn cool and like it would keep kids entertained and active for a while, all for $37! It ships for free, as well.
My first thought was, "would I fit in this?" It looks like so much fun. Toys like this Fun Hub Play Tent are wonderful for stimulating little imaginations. It would be especially good for cold winter days or rainy spring days when they need to get moving but can't do so outside.
This GigaTent Fun Hub is a 3-in-1 structure consisting of a dome (tent), a cube and a tunnel  that can be detached for individual play or combined to make this fantastic hamster maze for children. It even includes a carrying case for easy storage and transport. It's made of sturdy fabric and fibreglass poles for durability and set up is quick and easy.
Amazon doesn't indicate that this is a sale price but the lowest I could find it selling for elsewhere was $44 US. I think $37 (CAD), including shipping, is a great deal for such a versatile toy that'll keep the kiddos busy.
What was your favourite toy growing up, Moosers?
(Expires: Unknown)