GameFly: Up To 75% Off SquareEnix PC Games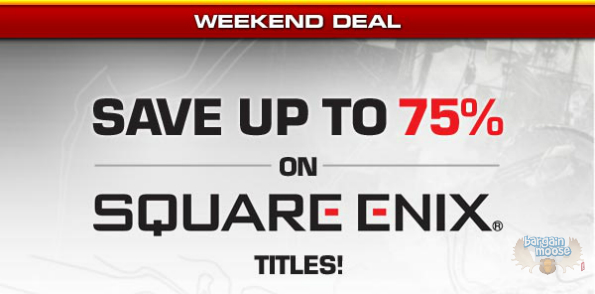 SquareEnix games are up to 75% off right now at GameFly!
This is the second place with a SquareEnix sale in the past little while, so I'm wondering if good ol' Squeeeeeenix is paying some people to build up hype. It makes sense, though. They have a couple Final Fantasy releases coming out soon, a Dragon Quest title, and of course the Call of Duty: Ghosts launch later this year. It seems a bit early to be promoting anything except FFXIV: A Realm Reborn, but there aren't any FF games on sale here, so I don't know what's going on.
Any-who, there are 39 PC games available here from series like Deux Ex, Tomb Raider and Hitman. I suppose it could be a push for 2014's Thief, since they are selling the third in the series, Thief: Deadly Shadows (Was $8.99 - Save $5.40 - Now $3.59). I've never played the Thief games, but I remember Deadly Shadows was highly anticipated and it has pretty good reviews. It's always surprising to me when I look at a list of Square Enix properties because I'm such a jRPG guy. I'm used to Square Enix being Final Fantasy and Dragon Quest, and that's it. They have a lot of other games in their stable, especially with their acquisitions of Eidos and Taito.
What's your favourite SquareEnix title? Let me know in the comments below!
(Expires: 13th August 2013, 1:00PM ET)