Future Shop: Xbox One + Kinect + Watch Dogs LE + Forza 5 Was $650, Now $500! (Expired)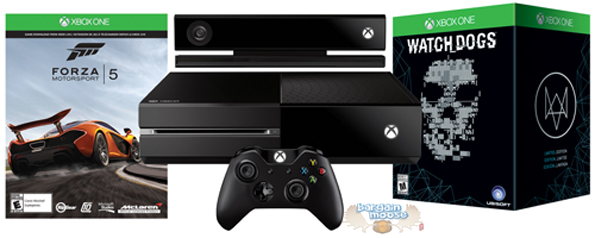 Are you peering into the figurative window of next generation video game consoles? If you've been waiting for the right opportunity to "take the plunge" and start enjoying the latest generation of Xbox, this deal may be a perfect fit for you. At Future Shop, they're offering a tantalizing Xbox One package, valued at $650, for only $500 - plus free shipping! Quantities are limited, so if you're interested, I'd highly recommend purchasing this as soon as you can.
This great package includes the Xbox One system, Kinect sensor, the limited edition version of Watch Dogs, and a download code for Forza Motorsport 5, all for just $500! Getting an Xbox One with these extras at this price is really something special. The system (with the Kinect sensor and Forza 5) typically retails for $500 at Future Shop and Best Buy. Watch Dogs LE usually sells for $150 at Future Shop, but it's currently on sale for $100.
I'll admit it - I was very close to purchasing an Xbox One when it originally launched back in November. I really enjoy playing my Xbox 360 (when I have the time to kick back and relax a bit, of course), and I figured that the next generation of Xbox would be just as great. However, what made me rethink my decision was the fact that the system isn't backwards compatible with Xbox 360 games. Also, their catalogue of available games wasn't deep enough for me (as is the case with most video game consoles around their launch date).
Watch Dogs has been one of the most anticipated games of the year, and this package from Future Shop will easily please any gamer - especially if it ends up being a Christmas present! I've included a brief review of Watch Dogs from Shacknews below:
Watch Dogs could've easily been Grand Theft Auto with tech equipment. But Ubisoft Montreal has managed to flesh out this experience as something more, making fantastic use of the technology and applying it just right to deliver a remarkably deep experience.
Is the time right to buy an Xbox One? It really depends on your gaming preferences. If you're a Mario fan, stick with the Wii U, since it has a plethora of great games on the horizon, like Super Smash Bros. U. If you prefer a more serious gaming experience, then the Xbox One may be the right choice for you. Plus, Halo 5 is coming out next year, and I'm sure that Microsoft has plenty of other surprises up its sleeve.
Happy gaming, Bargainmoosers! Quantities are limited, so get this deal while you still can!
(Expiry: 4th September 2014)