Future Shop: Franklin Air Hockey Table $99.99 (Save $49) (EXPIRED)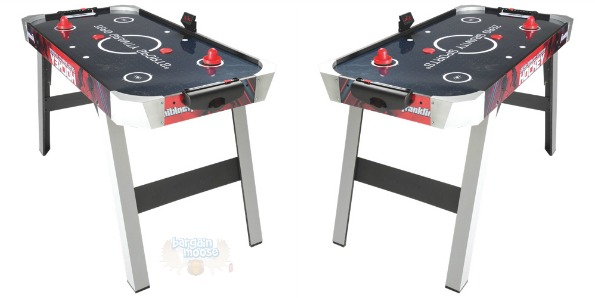 Future Shop Canada's one-day deal today is a Franklin Zero Gravity Air Hockey Table for just $99.99, down from the regular price of $148.99. The table is only on sale today and qualifies for free shipping as it costs over $25.
I price compared this table with other retailers and here is the going price right now:
$159.99 @ Shop.ca
$149.99 @ Well.ca
$148.99 @ Amazon.ca
As is to be expected, Best Buy Canada has the same deal as their sister site Future Shop, so if it sells out here you can always pick it up at Best Buy.
Whenever my father and I used to go to the theatre to watch a movie, we would stop off in the arcade to play a couple rounds of air hockey. My father is very good at air hockey and he would win most the time. I am vicious at it - I make the puck go fast and go flying but it might not go anywhere near the hole. My sense of direction is lacking but it sure is fun.
A table like this would be a riot in your own games room at home. The zero gravity air hockey table features a powerful enough motor to keep the puck flowing smoothly along the high gloss surface. As a cool bonus, there is an LED scoreboard mounted on the side that automatically keeps track of your points. That way there is no arguing over whether you are up to five or six points due to your opponent's 'faulty' memory.
While there are no reviews at Future Shop, there are two on Best Buy with a solid 5/5 star rating right now. Here is what one reviewer said:
I bought this as a gift. The box is almost a meter long and all wrapped up it had a 'wow' factor to it. Once out of the box, the assembly was easy - took less than 10 minutes before the kids were playing their first game.
The board comes with two pushers and two pucks. As with all games, there is some level of learning involved. This game is great for increasing hand-eye coordination. Game players can also work on aim and direction as well. I find that games like this also promote the use of angles. Like pool, you make shots off the side, so you start to understand that if you hit the side at a given angle then the puck will project out of the side at a certain angle.
(Expiry: 10 December 2014)