From $74, Hape Quadrilla Marble Runs - A Must See! @ Amazon.ca Marketplace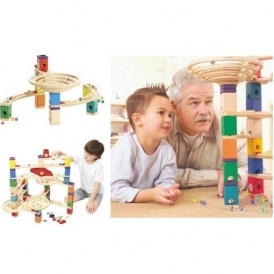 It's appealing that these Hape Quadrilla wooden marble run toys provides endless possibilities for 3-D thinking and engineering development. They also help to develop children's logic and spatial reasoning abilities... but seriously? They just look like so much fun!
I really want to have this toy, wouldn't you like to as well? I would spend countless hours with my kids, building, rebuilding and of course, letting the cat play with these sets by watching the marble roll around. It would make for some excellent family cat home videos.
Your order will be fulfilled (shipped) by Amazon, but is sold by Hape International.
I have seen the plastic marble runs before, but this one is far more intriguing because of the thousands of variations you could make with it.
Here is a list of only a few of them that you will want to check out:

Hape - Quadrilla - Vertigo Wooden Marble Run $126.22, down from $149.99
Hape - Quadrilla - Loop de Loop Wooden Marble Run $131.27, down from $167.99
Hape - Quadrilla - Round About Wooden Marble Run $74.31, reg. $83.99
Shipping is free!

(Deal expiry: Unknown)