Fit & Fresh 17-Piece Kids' Lunch Container Set $9 @ Amazon (EXPIRED)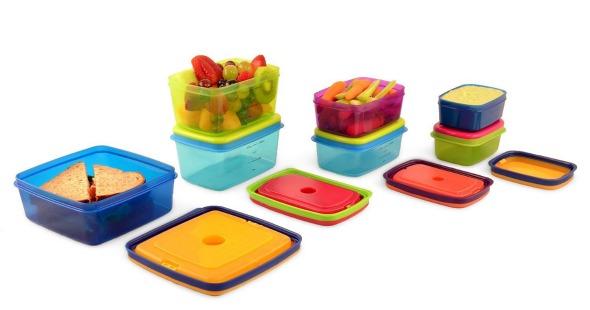 If you're not yet familiar with Fit & Fresh from various TV shows or magazines, it's an American company that aims to make fashionable, clever and cool products for healthy eating on the go. They make a number of things from simple baby food prep items to insulated lunch bags and whole bunch of neat things in between. I found the FIt & Fresh 17-Piece Kids' Lunch Container Set on Amazon for 55% off at just $8.50.
This set contains:
(2) 1/2 cup containers

(2) 1 cup containers

(2) 2 cup containers

(1) Lunch Pod

(1) 1 cup ice pack

(1) 2 cup ice pack

(1) Lunch Pod ice pack
If you've ever purchased an 'specialty' Tupperware (who'd have thought that phrase would ever be used?) you know that it's ridiculously expensive sometimes so this set has a lot in it for less than $9.
All containers made by Fit & Fresh are BPA-free as well as microwave, freezer and dishwasher safe (top rack); all ice packs are non-toxic. The removable, reusable ice packs actually clip on to the container lids. Less stuff to cram into their lunch bag means less things that don't make it home from school.
This set on Amazon has only one review and it is negative; the reviewer states that the lids are very difficult to close. I find negative reviews on Fit & Fresh stuff to be few and far between; they have a cult following and most other reviews on other sets are great. But every person has their own experience and perhaps that reviewer just got a bad batch. Amazon Canada has a wonderful return policy so, if you found the containers lacking, you can send them back - no questions asked.
This same set still sells for $17.99 US on the Fit & Fresh website. With Amazon Canada's price, you're looking at about 88 cents per piece. But isn't making tedious lunch preparation easier sort of priceless?
Have you ever tried any Fit & Fresh products, Moosers?
(Expires: Unknown)