Etch A Sketch Freestyle Drawing Pad $29.99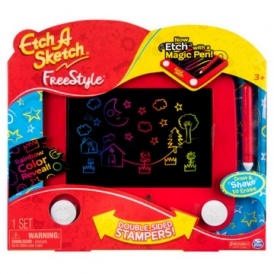 There's a new Etch A Sketch in town – and you don't even need to use the knobs to draw! The Etch A Sketch Freestyle Drawing Pad is out now, and you can pick it up from $29.99!
I'll admit it – I was definitely a little annoyed when I first heard about this. I don't even know how many hours I spent trying to master straight lines on my old Etch A Sketch, let alone entire pictures!
But I thought about it, and this is a pretty cool toy. It's an awesome way to introduce a new generation to an old classic, and it'll be great for keeping the kids busy on road trips and plane rides!
Your kiddos can choose to draw with a stylus or two double-sided stampers. Two button cell batteries also come already installed – so you can start getting creative right away.
Right now, Toys R Us Canada has the best price at $29.99, and we found a few more places to get it.
Mastermind Toys' price might be a little steep, but if you pick one up today, you can use the code BDAY20 at checkout to receive 20% off any single item in stock – include this Etch A Sketch!
Shipping costs will vary from store to store, but Well.ca usually has the best policy with free shipping on orders over $35.
Have you seen the Etch A Sketch Freestyle Drawing Pad anywhere else? Tell us in the comments!