$5 Bears Tomorrow Only @ Build a Bear Canada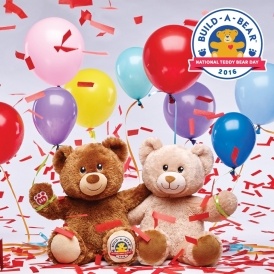 Tomorrow (September 9th) is National Teddy Bear Day! To celebrate, Build a Bear Workshop has a fantastic offer that is sure to draw us all in. What better way to celebrate than getting an awesome furry friend for the kids - for only $5! The Limited Edition Commemorative Teddy Bear can be yours for just five bucks tomorrow, and for every bear purchase a new bear will be donated to a charity as well.
This offer is around Friday, September 9th only. So be sure you don't miss out! I would head into your local Build-a-Bear workshop bright and early because quantities will be limited. These bears are normally $12 and come in two colour options: Lil' Vanilla and Lil' Hazelnut cubs.
You can even head into Build-a-Bear without the kids and keep this new bear as a Christmas gift! Yep - my mind is already thinking about stocking up for items to put under the tree this year. You are limited to 5 of the $5 bears per guest, and you will have to pay extra for the outfits and accessories of course.
So what are you waiting for?! Start arranging your trip to Build-a-Bear now!