Disney Princess Palace Pets Dreamy Was $60 | Now $30 @ Walmart.ca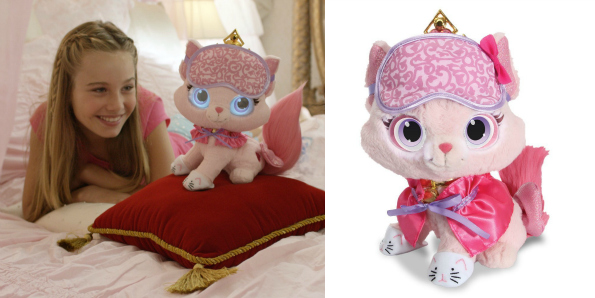 The Disney Princess Palace Pets are the pets for each of the Disney Princesses. At Walmart Canada, you can purchase Disney Princess Palace Pets Bright Eyes Feature Plush - Dreamy on sale from $59.94 down to $30. Receive free shipping to your local Canada Post location if you do not want to hit the $50 minimum for free shipping to your home.
Dreamy is Princess Aurora's kitty - it makes total sense as Aurora is known for her long naps: she is Sleeping Beauty after all. Dreamy, is a soft and cuddly kitty that is fully prepped for a life of napping! Dreamy comes with a robe, a sleep mask, fuzzy slippers, and a comb. However, it is the features that make Dreamy so special.
Dreamy's eyes light up when you pat her head, tickle her chin, or pet her head (you can see her glowing eyes in the picture above). I think this is a super cool feature and would be awesome to see at night. It could sort of be like a nightlight for children. When they wake up scared, they can pet Dreamy so her eyes light up and bring them some comfort.
Dreamy also wakes up, speaks, and falls asleep at the touch of your hand. When awake, Dreamy knows over 19 phrases so this toy provides lots of interactive fun for a good price.
This soft and cuddly cat makes a wonderful bedtime accessory for your child. I know that a lot of children have trouble going to bed and to sleep. Now, Dreamy can join them and fall asleep too. Dreamy is perfect for playtime and bedtime as this plush is soft and cuddly.
Dreamy is completely sold out at all my local Walmart locations. I tried to price compare with Amazon, but the price is well over $70 in the Marketplace. Toys R Us also does not have this toy in stock, so you will want to pick it up now or risk not being able to find it later.
While this toy is not showing limited quantities yet, toy deals like this generally sell out fast.
(Expiry: Unknown)