Disney Movie Rewards for Free Items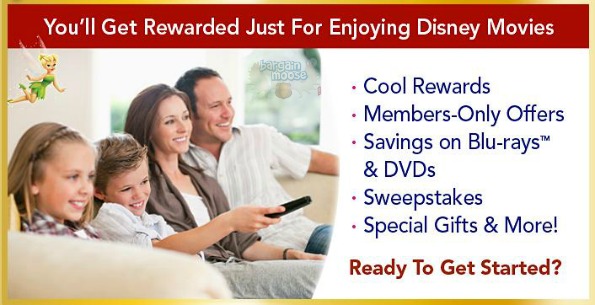 There are so many rewards programs out there right now with some of them being worth it to join and some of them not.  The Disney Movie Rewards program is a program that is worth looking into whether you have kids or not.   I joined this program about a year ago and have not had to buy anything to earn the free rewards.
There are a couple of ways to get points so that you can turn the points into free items.  The first way is probably the easiest and best way.  When you buy any Disney DVDs or Blu-ray movies, there will be a code inside the packaging that you can enter online and give you points.  You save your points and trade them in for free gifts. You do not need to buy the movies from the website, in fact you can buy them from any store that sells the Disney movies.
I like that I am able to go to Walmart and buy a movie from the $5 bin and get the points for the movie.  What is even better, you can use coupons that you find to make the cost of the movies next to nothing.   The great thing about this is that the codes on the movies have very long expiry dates.  I found a couple of Disney movies on my shelf from a few years ago with codes in them and they still worked! It is also a bonus that Disney sell a variety of movies for the entire family not just for kids.
The second way you do not need to buy anything.  When you sign up, you will get emails from Disney and sometimes somewhere in the email will be a special code for you to enter online.  These codes happen about once a month and can add up fast.
The rewards consist of a huge variety of items.  You will find movies, books, posters, gift cards, clothing and more.  There are also a lot of downloads that are absolutely free to member only.  Right now for example they have a variety of digital books and printable crafts free to download that won't cost you any money or points at all.
They also have sweepstakes every month for your chance to win trips, shopping sprees and more.  My favorite thing to trade in my points for is a Starbucks gift card.  I figure we have a ton of kids things around our house and like a treat for myself every once in a while.
Whether you have kids or not, this is a great free rewards program to sign up for to get free items.  Before buying any Disney movies from any store, make sure to check the Disney Family coupon codes on the Bargainmoose coupon forum first.