Costco Canada : Yukon Charlie's Junior Molded Snowshoes & Poles Kit for $89 (Shipping included!)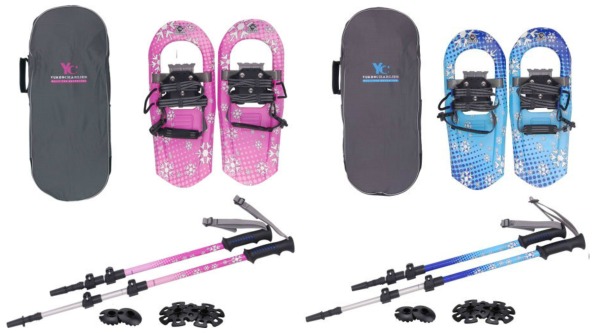 Costco currently has a great youth snow shoe kits going for $88.99, shipping included! This kit is made by Yukon Charlie's, a company that specializes in show shoeing, so you know that they have a pretty good idea of what makes a great pair of snow shoes.
I trust the Costco value, and these cute snowshoe kits are a great investment in your outdoor family activities. Bringing your child along for snowshoeing can be such a fun family activity, and I guarantee that it will tire them out just enough for an early bedtime.
One of the greatest thing about snow shoeing is that it's the type of exercise that your kids don't even realize how hard they are working while doing it. It's also such a great way to go out on an adventure as a family despite the heavy snow. I've been having such difficulty finding quality snowshoes for my child so I was very happy to see these kits on the Costco website. Snowshoeing is much more fun when the whole family can participate!
As I've excitedly mentioned, shipping is already included in this price, so enjoy!
(Expiry: Unknown)