Check Out The Fun Imaginarium Marble Race For $25 @ Toys R Us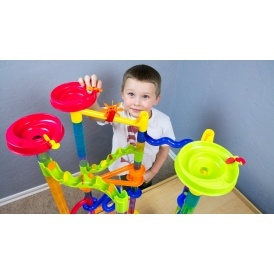 The Imaginarium Marble Race set is a great way to have a blast with the kids. You guys will be chasing marbles all over the place, and the kids will love watching how it works. Today, this kit is on sale for half price at Toys R Us so you will only have to pay $24.97. Spend $49 for free shipping.
As a mom of a toddler who is almost constantly on the go, I can't pass up an opportunity like this. This toy is colourful, and can provide hours of entertainment for kids of all ages. The recommended age for this toy though, is between 3 and 4 years of age.
At first glance of the photo I thought this set may be flimsy, but that doesn't appear to be the case at all. Check out this review from a happy mama:
I was concerned about the quality, unsure if it would stand up to the rough and tumble ways of my boys. However, the price was so much better than other marble tracks and it had many more pieces, so we gave it a try. I have been pleasantly surprised. Yes, it could be sturdier, and we have to be careful because it can fall over when you're careless. But my boys (6 & 3) love it.
Plus, with 20 track pieces, 50 connectors, 9 rollers, and two paddles the design choices are pretty endless. So not only will your kids have fun rolling the marbles down the track, there are 20 included by the way, they will also have fun helping you assemble unique tracks every time.
ToysRUs.ca offers free shipping on this item if you spend $49 or more. Maybe you want to get two kits for the ultimate fun with marbles. Or, perhaps a friend of yours wants a set for their kids too?
(Expiry: 3rd April 2016)