Chapters Indigo: Huge Jack The White Bear Was $60 | Now $24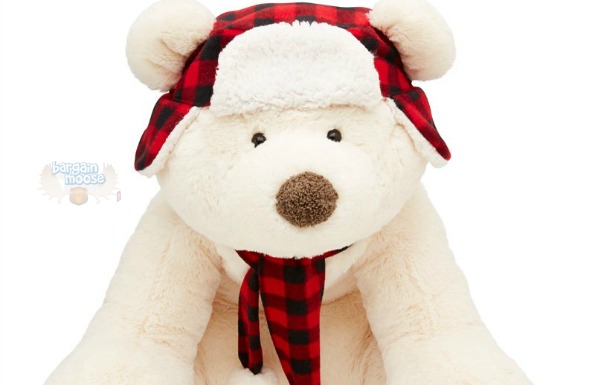 The huge size Jack the White Bear is on sale from $59.50 down to just $24, at Chapters Indigo Canada. Despite the plushie's size, it still qualifies for free shipping if you can find something else to make up that dollar difference.
The Jack the bear plushies were 40% off on Black Friday, but this discount is much better. Sometimes it pays (or saves) to wait for the remainders to be discounted even more. This bear is quite large and extremely soft; I have cuddled him in stores. He makes the perfect companion for your child or even a couch buddy for late nights watching movies. The bear is dressed in a red and black plaid winter hand with matching scarf.
The bear measures 8.5" x 10" x 28". He is only available from Chapters Indigo, so there is really no way I can price compare this sweet big stuffy. These bears make a great gift for girls or boys alike. Here are a couple reviews:
These bears are so adorable and my 2 granddaughters loved them when they received them for Christmas.
and...
If you looking for an adorable stuff animal you just found it! It's super soft and just really cute!
The bears do shed a bit; they just have that new plushie feel that most plushies have. I suggest giving them a rub down with a roller ball before bestowing them upon your child. I hugged one tightly in store and was suddenly covered in little white hairs - granted I was wearing solid black. I do have to agree, they are so soft.
The large Jack the White Bear is also on sale, but the discount is not as steep. He was $39.50, and is now on sale for $20. That means he is 49% off, which is still better than Black Friday's sale.
There are plenty of sale items you can add on to your cart in order to receive free shipping. This Metallic Placemat – White was $8 and is now $4 and the Cream Gift Box Felt Ornament was $9.50 and is now $4.50. For something a bit more expensive but at 75% off, the Milk Cheetah Infinity Ring scarves were $60 and are now $15 each. Each would easily put your cart over the $25 minimum for free shipping at Chapters Canada.
(Expiry: Unknown)